New Mexico State University's Physical Science Laboratory (PSL) has extensive expertise and capabilities for UAV test and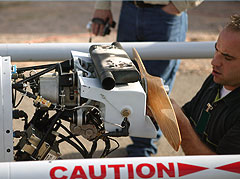 evaluation through its UAV Technical Analysis and Applications Center (TAAC), which was established in 1999. The center's mission is the safe integration of the vehicles in the National Airspace System (NAS). TAAC provides support for UAV operations worldwide, routine flights in civilian airspace, certification and regulatory research and validation, and platform and subsystem demonstrations.
A new program within TAAC is the Unmanned Aerial Vehicles Systems and Operations Validation Facility (USOVF), a unique and dedicated facility for operational and performance evaluation of military UAV systems. Sponsored by the Defense Department (DoD), the center was created through a partnership between the 46th Test Group at Holloman Air Force Base and the Physical Sciences Laboratory at New Mexico State University (NMSU). It operates out of the Las Cruces International Airport.
The UAV Center of Excellence has several competitive advantages to offer UAV operators. They include:
Existing general FAA Certificate of Authorization enables PSL to operate any UAV with 48 hours notice. It is the only facility in the U.S. that has this certificate.
It can accommodate any UAV size, platform, or application.
Southern New Mexico has exceptional weather with 350 VMC flying days annually, perfect for routine flight operations.
Ability to test UAV platforms in civil airspace
Developing See-and-Avoid technology
300,000 square miles of UAV designated airspace and access to White Sands Missile Range airspace, the largest controlled airspace in the U.S
Low population density
PSL UAV training program
NMSU Aerospace engineering degree program
Click here for more information on the UAS Flight Test Center.